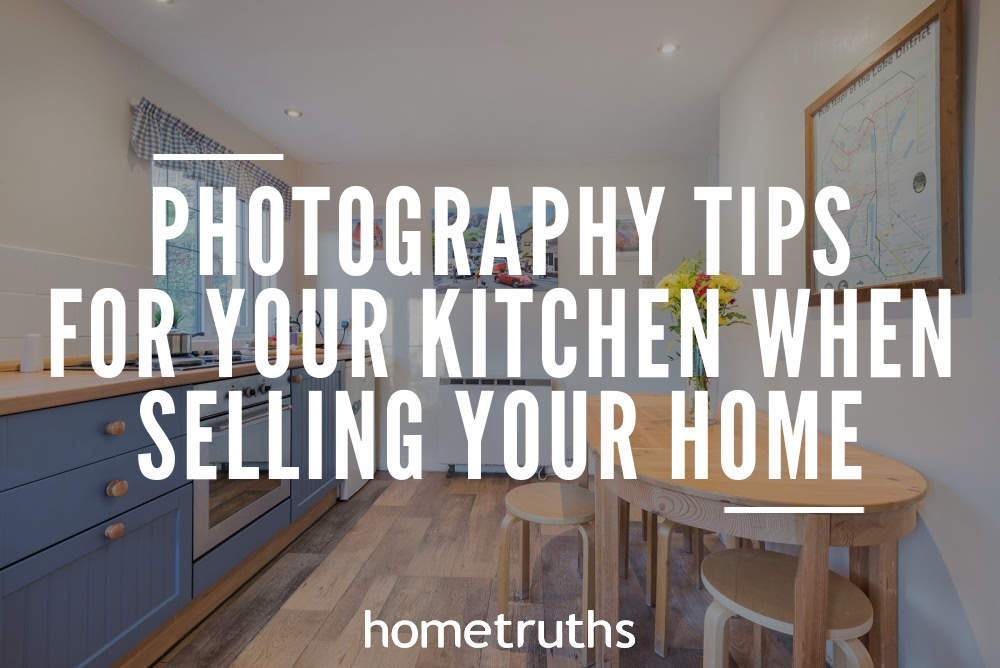 The prospect of a photographer taking pictures of your home isn't always the most pleasant thought. You want your home to appear homely and inviting, but not too lived in. And you want it to look clean and neutral, but definitely not clinical. Sounds complicated, but our home staging rule is simple: declutter, de-personalise and dress. And since it's the hub of the home, let's apply our method to the kitchen. Because, here's a secret: it's not the photography itself that'll catch people's eye; it's the preparation before the photographer arrives.
De-clutter
Let's start by decluttering. Sounds taxing, but it doesn't have to be. Simply make sure that all worktops are clear, chopping boards are put away, and tea towels are tucked out of sight. The same applies to bins. Yes, every kitchen has bins. But there's no avoiding that even the most tasteful bin, is a rubbish container in disguise. And anything that can be associated with dirt and grime is not a welcome distraction.
In fact, anything that can be removed, probably should be removed. Because the kitchen should look as spacious as possible. So if your microwave lives on the worktop, consider giving it a temporary new home. Appliances on show make the kitchen look cramped, and a lack of space is unappealing to any family.
De-personalise
Preparing your home for a photographer can feel a little intrusive. Your home is filled with your family's memories, and the personalised touches are special to the people inside. But since it's an unavoidable formality when selling your home, it's best to take it as an opportunity, not a chore.
Because if you're selling your home, you're ready to move forward. That means a new home, and a fresh start. When styling your kitchen, neatly pack away anything that's too personal, and store it ready to unpack in your new home. You'll feel more comfortable without the photographer catching your children's portraits in the background, and a blank canvas will help potential buyers envision their family in the space.
The same rule applies for fridge magnets and personalised name hangings. In fact, anything that is sentimental is best out of shot. Yes, the kitchen is a family space, but it's best to pack any rogue toys into storage. Because, whilst an endless trail of toys is the reality of our homes, no one is ever really impressed by reality.
Home styling is about romanticising reality. It's about creating an ideal that is unachievable every day. Take pets for example. Most families have a furry friend or two, and yet no one really likes to see their food bowls and litter trays. So animal lovers or not, potential buyers will thank you for hiding the cat mat out of shot when the photographer arrives.
Dress
Now that the kitchen is a fresh blank canvas, let's have some fun. Dressing a home to appeal to another family can be tricky; you know what appeals you to you, but making your home desirable to another family is a whole other ball game. A flick through a few home magazines is a great source of inspiration. But a few finishing touches might be all you need to catch people's eye.
So, where to start? Take a step back, and look at your de-cluttered, de-personalised kitchen. How does it look? Hopefully the words 'spacious' and 'open' spring to mind. But the de-personalisation might have made the space a little cold now too. So, now we personalise again. Seems illogical, but there's a theory to the madness. This time, we personalise with potential buyers in mind. It's not true personalisation, but staging is, well, staged. And it'll help other families to picture their family living inside.
The next time you're mooching around John Lewis, or browsing The Little White Company's website, take a look at their homeware and accessories. It'll give you inspiration for your new home, and anything you pick up can be taken with you once your home sells.
For larger textiles, such as curtains and blinds, opt for neutral, subtle tones, and steer clear of any bold, loud patterns. Cushions and throws can add a touch of colour to your kitchen chairs or sofas, but again, pick out the calmer colours. Fresh textiles are a quick way to add warmth and homeliness, but we want to keep a calming environment too. Anything with too much personality, or that jumps out, should be left on the shelf. These finishing touches shouldn't be a feature, and they shouldn't detract from the kitchen itself. They should simply compliment the room, and make it cosy.
Kitchen tables can be a feature though, and if dressed to impress, they can help bring a room to life. So if you're tableware is a little tired or outdated, it's the perfect excuse to indulge in a new set. Table mats that complement the decor add a nice touch too. Laying a contemporary runner down the center, and placing a delicate trail of candles, completes the elegant finishing.
Happy selling!
If you'd like my help to sell your home more effectively, please answer a few short questions here and if I think I can help you, I'll be in touch.
Sam