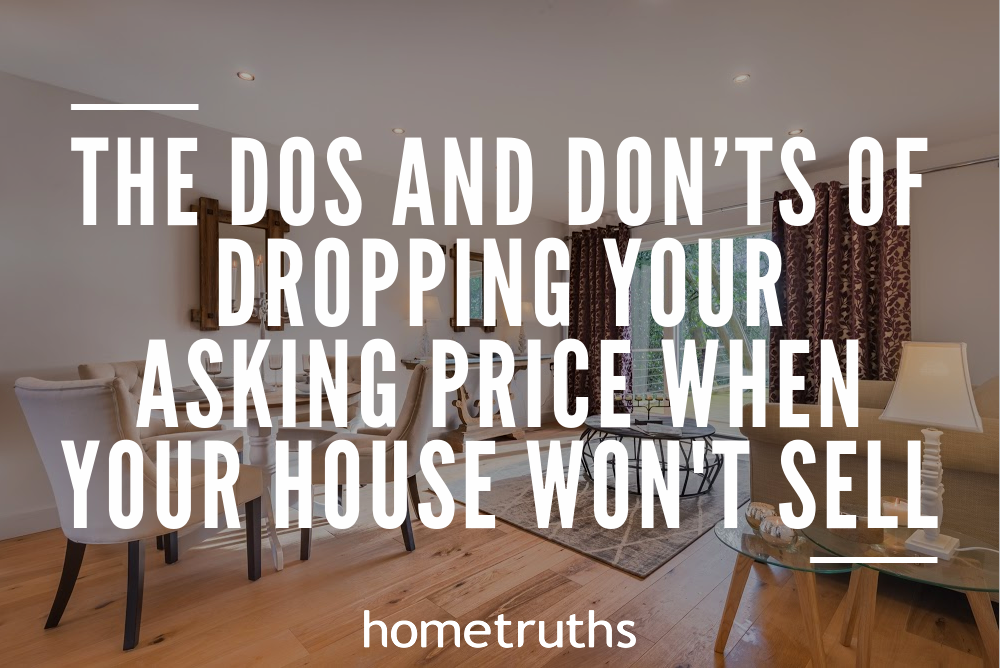 If you have had your house on the market for some time without success, dropping your asking price may seem an inevitable, if undesirable, next step.  Your estate agent will often suggest this move if they have run out of ideas, motivation and most importantly, confidence in your asking price.
But is dropping your asking price really the answer to selling your home more effectively?
It's true that for some properties, reducing the asking price can generate new interest from buyers who would have been previously unable to afford your home.  It's also a step that for some sellers, is unfortunately necessary, if they have an urgent move, for example, or are facing repossession.
However, with many houses – particularly premium homes – dropping your asking price is not always the answer, and in fact it can even harm your chances of selling your house effectively.
I've compiled these DOs and DON'Ts of dropping your asking price to help you get the result you want and move on with your life:
DON'T drop your asking price by less than 10%
– Or it just won't make any difference to the interest you get. Buyers will usually look at homes 10% either side of their budget anyway so you'll need to reduce by at least that to get noticed by a new set of buyers.
DO ask your agent why you need to reduce
– Your property was originally valued based on sound research and by an expert in the industry.  What's changed? Understanding whether your agent misjudged the market, or the demand has changed for houses like yours, will help you make the right decision to either reduce or to stick it out.
DON'T keep making small drops in price
–  A price drop can cause suspicion among buyers, who may wonder what's wrong with it?  Why have you lowered the asking price?  A buyer may not want to risk buying a house that seems to be falling in value. Each drop can signify a red flag to a buyer, so make your drop big and impactful, but make it just once.
DO drop to the next Rightmove price banding
– You can find these by going to www.rightmove.co.uk and entering a search. The list of price bandings that comes up is your guide as to the price your house should be marketed at. For example, there's no point at having an asking price of £399,999 when the Rightmove banding is £400,000. You can read more about this subject here.
DON'T try to break the ceiling for your road or area
– Not only does this make buyers jittery, it will also make your surveyor nervous, too. Unless you really can't avoid it, try to price your home at less than the highest price sold in your neighbourhood.
DO ask your agent the right questions before you drop your price
– If you're feeling pressure from your agent to reduce, or you have a moving deadline looming and can't afford to drop your price, ask your agency what else could be done to secure that sale, other than reducing your asking price. Have a review with them and look at your marketing critically. Could it be improved? A new twilight image or drone shot could show your home in a whole new light and generate new interest from motivated buyers.
DON'T give your buyers an excuse to make a low offer
– Make sure your home is wonderfully presented, with every room polished and attractive, otherwise you're literally leaving money on the table. Home staging can add thousands to your asking price and making a few small changes now can help you reap the rewards when you do get an offer.
DO give yourself some negotiation room – but not too much
–  On average, you can expect to achieve around 95% of your asking price, with 5% lost in the negotiations with your buyer. This will depend on other factors of course, like how fast your local market is moving, the confidence in the housing market while you're selling and how long your home has been on the market. Taking 95% as a benchmark, losing 5% of a £400,000 asking price means you will eventually receive £380,000 on completion. But if you reduce the asking price to £375,000 say, you'll only get £356,250; quite a drop. Not only have you reduced by £25,000, you'll also have lost an additional £23,750 in negotiations, putting your total 'lost' sale monies at £46,750, a significant loss of 12% of your original asking price.
DON'T forget to analyse your price per square foot
– It's a far more accurate way to value a house than other methods. If your agent hasn't already done this for you, make a spreadsheet of the other properties for sale and sold in your area and calculate the price per square foot of each, then compare it to yours. Read more about this way of valuing here – Price per square foot – a more accurate way to value
When your home hasn't sold and you're wondering if it's the asking price to blame, use the above DOs and DON'Ts as a checklist to see if you're doing everything you can to get your house sold. If your price per square foot is about right and you're not trying to break the price ceiling for your area, and your home is presented in the best way possible, and you have time to wait it out, then have confidence in your asking price. Because if you don't, no one else will.
Happy selling
If you'd like my help to sell your home more effectively, please answer a few short questions here and if I think I can help you, I'll be in touch.
Sam