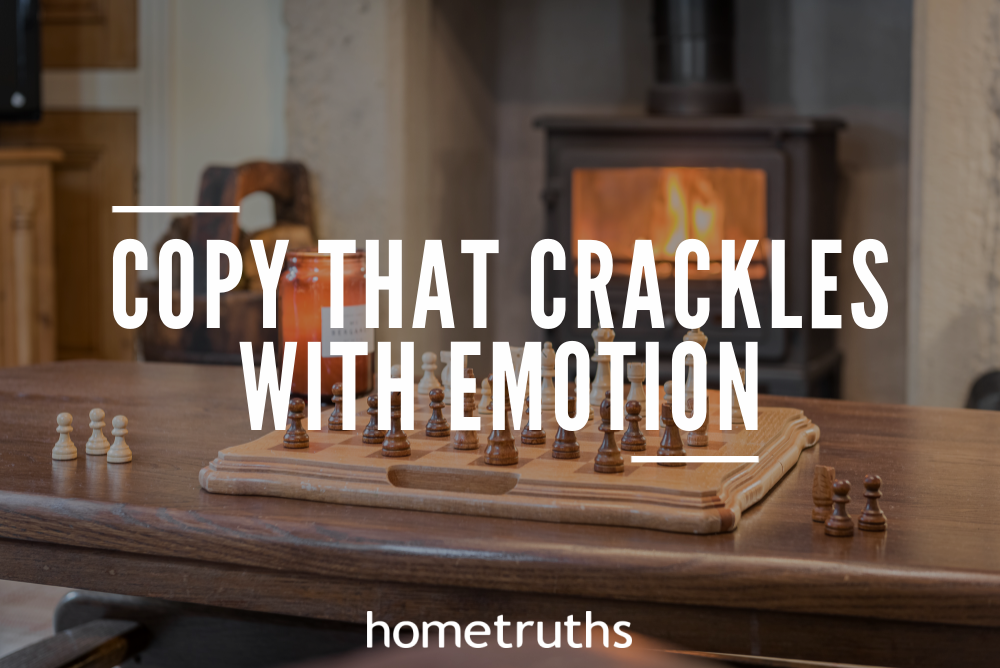 Copy that crackles
When an estate agent describes a house he's selling, in a brochure or online, you'll see he uses words that are found almost nowhere else in the English language: "benefiting from", "dual aspect lounge" or "located in a premier turning" are all commonplace phrases for today's estate agent. Surely learned in estate agents' school, along with the capacity to spell the room we eat in as the "dinning room" and accommodation with only one 'm', or one 'c', or even one of each. Oh dear…….
I'm on holiday as I write this post, in beautiful and windswept Northumberland. Staying in a cosy retreat of a cottage, that sold itself to me via some appropriate images (log burner, super king-sized bed, coffee machine), and also, importantly, the right words: "squishy sofas", "great jazz cd collection", "secret garden".
The whole quirky, fun-sized brochure is beautifully written, and – unlike most property descriptions – really draws the reader in. Listen to this description: "This architect designed house brings you the sound of the waves, mesmerizing coastal views and sand between your toes, just steps away from a spacious and light-filled contemporary interior splashed with vivid artwork."
Or this: "The fitted gourmet kitchen blends together oak and leather furniture and a cosy 'snug' with flat screen TV and piles of reading material, leads of the living room." This one really sets the scene: "The patio is the perfect place to watch the harbor activity and the changing sea from sunrise to sunset."
Now compare the above descriptions with those used by local estate agents to describe beach-front properties:
"A 3 bed semi-detached house located in the heart of the village with coastal views to the front."
"An attractive three bedroom detached bungalow occupying an enviable position on Harbour Road, enjoying superb views to the sea."
"The apartment is situated within the attic space of the central building with direct sea views to the Farne Islands and along the beach towards Bamburgh Castle."
These are beach-front homes, for goodness sake!
Which style works better in painting a picture for the reader? Can a buyer really become enthused by these agents' descriptions? Despite the fact that I'm a professional property expert who has herself, moved home more than thirty times, I'm still a sucker for the kind of emotive language used by the holiday rental company in question, and the combination of such romantic words and atmospheric images wins me over every time.
The lesson here is this: if estate agents employed the same attention to detail in their copy as the best travel companies do, they too would win over their audience – the buyer. If you're still not convinced, take a look at the website of the company who got my business:  www.coastalretreats.co.uk and lose yourself in some holiday dreaming.
If you'd like my help to sell your home more effectively, please answer a few short questions here and if I think I can help you, I'll be in touch.