Hands up who knows what this is?
Well done those of you who do; give yourselves a pat on the back.  Those of you who think it sounds like an investor report, you may want to read on.  Particularly if you're trying to sell your house, and you've never been shown one.
The Rightmove Property Performance Report is available to all those estate agents who use Rightmove.co.uk to advertise their properties.  What this report can show is:
How well your property is 'performing' in terms of the number of times it appears in a buyer's search on Rightmove
How your property compares with the performance of your estate agent's other properties
These statistics over the last week, fortnight or four weeks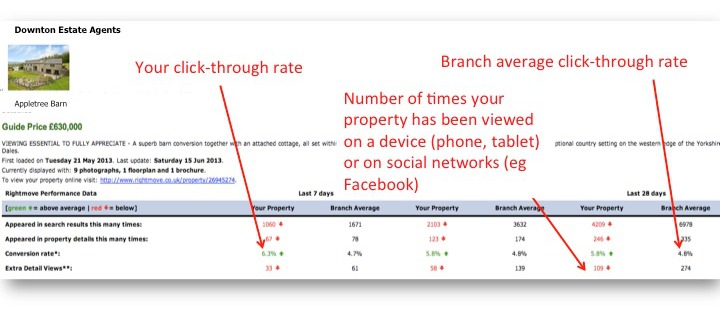 In addition, the report displays your 'click-through rate'.   This represents the percentage of viewers who click on your property advert to look at further details.  The national average  click-through rate is currently around 5%, which you can take as a bench mark, against which you can measure your property, and indeed your agent. In other words, one in 20 people will usually click on your property from the list that has appeared from their search.
Statistically, there is a direct correlation between the click-through rate of a property, and the viewings generated on it.  So it's actually really important that you get as many clicks as possible.
But what can you do if your property is performing below the 5%? Firstly, ask your agent to try these changes:
Keeping the front page introduction to one snappy headline;
Changing the main photograph for one which doesn't show the property at all, but instead just the front door, or name plate.
Including some unusual information in the front page introduction, eg 'The only property in Surrey with a well in the downstairs toilet' (probably best you make your statement truthful)
A question is always eye-catching: eg "wouldn't you love to watch the sun go down sitting on this balcony?"
Before your agent makes any changes to your advert, ask them to produce a report as a benchmark, then compare it in say a week, with the new click-through rate to see if there's been any improvement in it.
So, if you haven't seen a Rightmove Property Performance Report before, call your agent right away and ask for one; if he's in the dark, ask him to call me and I'll explain.  Then you might want to think about finding a new agent.  After all, this is the digital age, and informed sellers will always have the edge.
If you'd like my help to sell your home more effectively, please answer a few short questions here and if I think I can help you, I'll be in touch
What to read next: Your Rightmove Property Performance Report
What to do next:  Sign up to my Selling Secrets https://www.home-truths.co.uk/selling-secrets