These days, 93% of property searches begin online.  But 'online' means the property portals – Rightmove, Zoopla and Primelocation.  Not Facebook, Twitter and the other social media platforms. At least, not yet….
You see, the issue isn't the capability of social media to advertise a property – every platform could carry a very credible property marketing campaign, in fact.  No, the barrier to using social media to sell your property, is that buyers aren't looking there… yet.
We've educated British buyers to simply go to one or more of three property 'databases' (aka portals) to find their next home.   If they went to Facebook, for example, where would they start?  No – the way to sell your property using the might of social media, is to use it for one very important task – to drive traffic to your portal advert.  Once a buyer lands on this page, you can then divert them onto perhaps a micro-site of your own, but taking them to say, Rightmove in the first instance, is the best strategy, because of these 3 reasons:
Rightmove is one of the UK's most trusted sites, so a browser can click on a Rightmove link in complete confidence that it will take them where they want to go.
Rightmove (and the other portals) collate analytics (statistics about online behaviour) and make these available to your estate agent.  You can then make changes to your advert, test and measure the results.
Rightmove is fully optimised for social media, meaning that every property advert is very easy to share on whichever social media platform you choose, from Facebook to Pinterest, and Twitter to Google Plus.
So let's drill down in detail to see how an actual social media campaign for a single property can be run, by looking at a real life example.
High Wood Barn is a beautiful barn conversion in the heart of the Yorkshire Dales, with picture-postcard views of Pen y Ghent.  (Click on the name to take you to the Rightmove advert.)
As part of the marketing campaign, we appointed a social media campaign manager, and created a strategy to drive traffic back to the Rightmove advert.  The advert then leads to a brochure link, which in turn, drives traffic to this micro-site.
These are the media we chose to market High Wood Barn, and the strategy for each:
Facebook is a great platform for selling properties, as it's so visual, whilst still having lots of room for accompanying text.  What we've done here, is to create a place to post all things that are great about High Wood Barn, including its position next to beautiful open countryside, its location, so close to the lovely Yorkshire market town of Settle, and also its Yorkshire culture and heritage, including food and drink!
Facebook is also a place to put all our links to the other platforms we're using, like the micro-site and Youtube.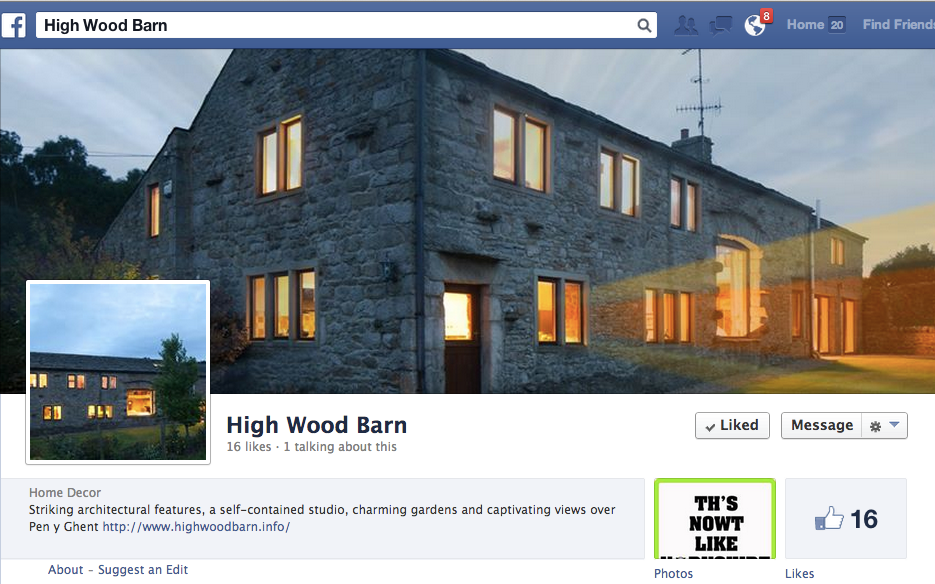 A 'micro-site' is a bit of a misnomer, really.  It's just a website, which solely focuses on High Wood Barn.  Because the site is owned by the homeowner, it can have a direct phone number for those buyers who might want to deal direct with the owner, it can have multiple tabs, for photographs, lifestyle information and references to the estate agent's details, and lots more.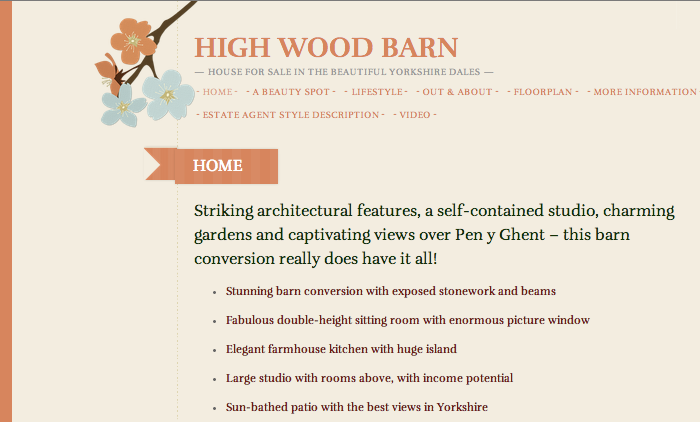 Pinterest, for those of you who aren't familiar with the platform, is a pinboard-style photo-sharing website that allows users to create and manage theme-based image collections such as events, interests, and hobbies. Users can browse other pinboards for images, "re-pin" images to their own pinboards, or "like" photos.
What we've done on Pinterest for High Wood Barn, is to register its own Pinterest account, with six boards: 'About Me', 'Rathmell' (the nearest village), 'Yorkshire', 'Brand Yorkshire', 'Dressing Up' and 'Designed in Yorkshire'. You'll see that there is a definite focus on Yorkshire, selling the lifestyle that a buyer could expect to experience as the new owner of the house, not just the 'bricks and mortar' of the property.  Instilling positive emotions around High Wood Barn is the goal of the 173 pins on Pinterest, and we'll keep adding to these boards as the campaign progresses.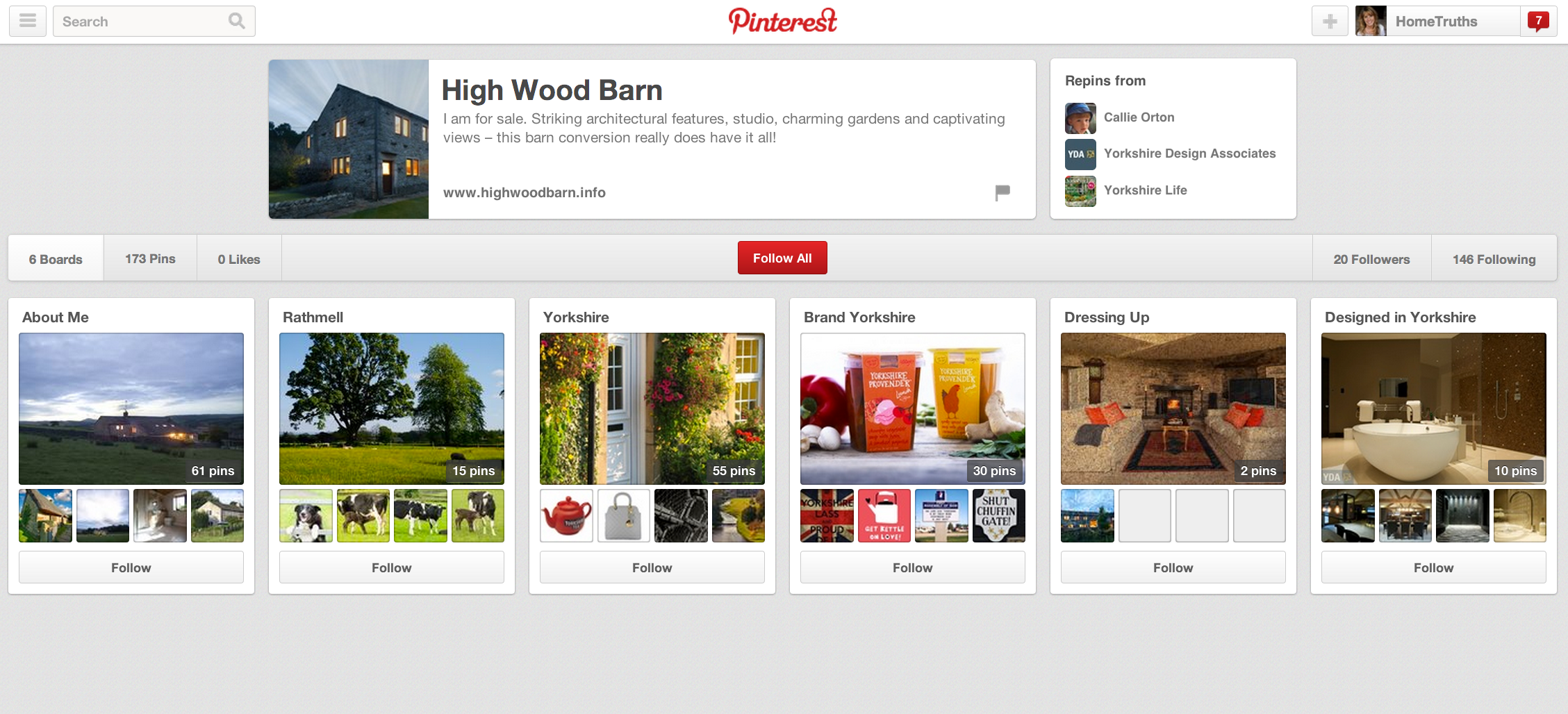 Whilst I'm not personally a Tumblr user, it is, nonetheless, a hugely popular micro-blogging and social media platform, with over 139.4 million blogs hosted on it (source: Wikipedia Oct 13).
As the platform is also very visually rich, we've been able to share some gorgeous images on the platform, which also allows re-blogs – meaning that users can share the images with their followers.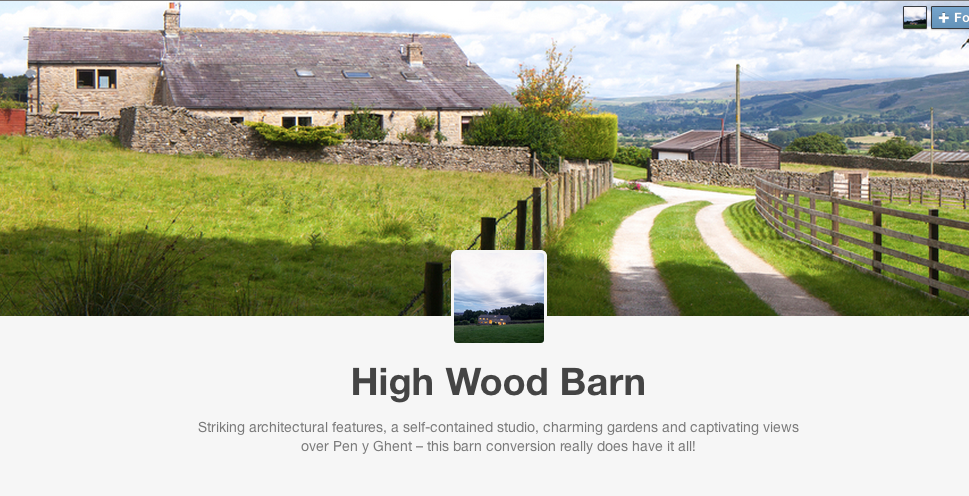 We have a lovely video on YouTube, created by the homeowner, which really shows the photographs of High Wood Barn in a dynamic way.  YouTube is now owned by Google, and aside from Google itself, is the world's largest search engine!  To date, it has forty views, and after this blog goes live, hopefully that will increase!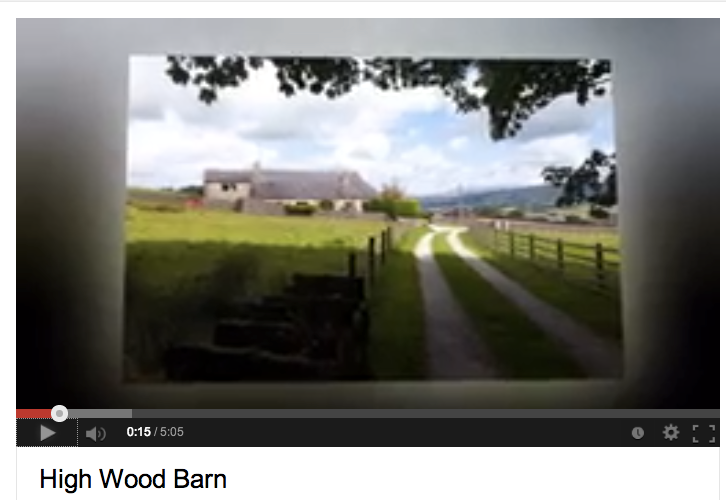 Andrea Morgan from Citrus Content also has her own property-related blog.  Her blog is award-winning with a large audience, and this post got shared multiple times. As it was more textually-based, it gave us the chance to balance all the visually-based platforms with some really detailed written information about High Wood Barn.  Andrea also has a very strong 'voice' which really adds to the credibility of her post about the house.
So far, we haven't utilized Google Plus, but if we did, we could:
 Create a special account, just for High Wood Barn
Upload all the photographs
Add some nice descriptive text
Include all the other social media platform links
Add a call to action, telling buyers how to book a viewing.
Did it work?
Not yet! At the time of writing, High Wood Barn has been on the market for two months, and the click-through rate, which had been hovering around 6% with the previous agent, peaked at 13% and has not yet dipped below 8%.  When you learn that the national average click-through rate is currently less than half that, you can see how much extra traffic is being generated by the social media campaign.
Time for Andrea – the social media account manager – to have a quick word:
"Selling a home today is very different.  There are many avenues open to you including experimenting with social media.  There are a variety of platforms to use, including: Twitter, Facebook, Pinterest and You Tube.  Utilising different types of medium each platform can give a unique insight into your home for sale.  Many estate agents are now incorporating video allowing us to virtually walk through a property.  Using social can make a difference!"
Happy Ending?
With interest remaining so high in High Wood Barn, I'm sure an offer will be forthcoming very soon.  When it does, rest assured I will share it with you in a 'happy ending' post on here!
Sam
If you'd like my help to sell your home more effectively, please answer a few short questions here and if I think I can help you, I'll be in touch
What to do next: Sign up to my Selling Secrets https://www.home-truths.co.uk/selling-secrets