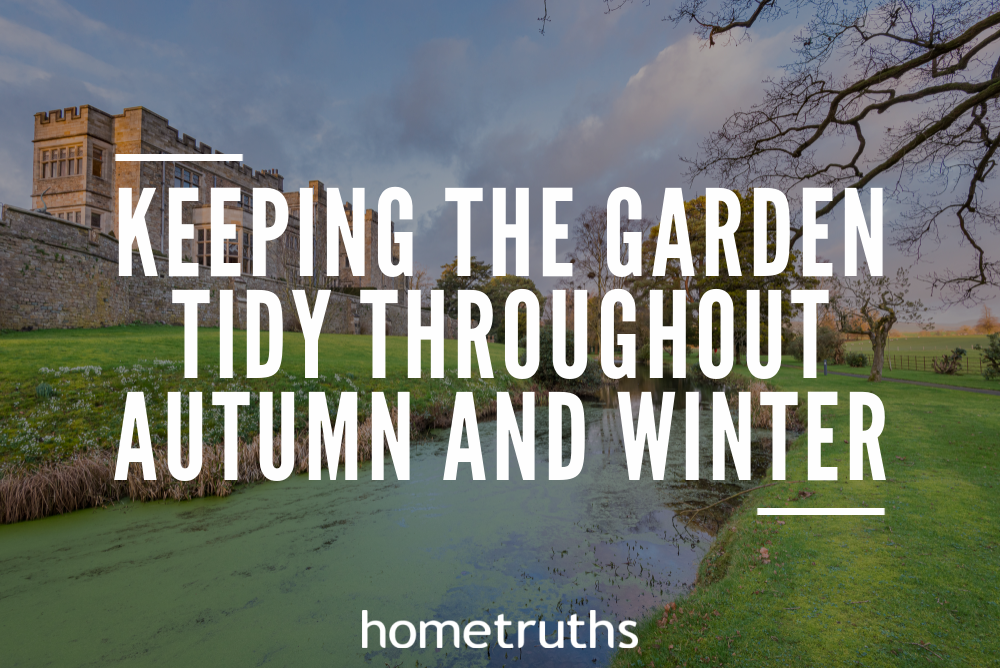 First impressions count for a lot in the property market, and the garden can often get neglected. Here on Home Truths we think the outdoor presentation of your property is vital, after all, it's what catches a potential buyer's attention. A lot of people take care of their garden in the summer only to skip maintaining it as the colder months approach. Yet if your home is on the market, keeping your garden tidy in the autumn and winter is just as important.
Here are some of the things you can do to keep your garden tidy throughout autumn and winter:
Give your lawn a good sweep
If you leave a dense layer of leaves on your lawn, they will kill the grass underneath, resulting in problems in the spring. If your garden is regularly covered in leaves, one of the best things you can do is to make a leaf mould. Alan Titchmarsh recommends stowing damp leaves away for a year in a black bin liner until they become a crumbly brown mould that is ready to use.
Early autumn is also the best time for lawn care—sow fresh seeds on bare patches, trim plants, and remove invasive weeds.
Start sowing plants for the cooler months
Since growth slows in autumn and almost stops completely during winter, early autumn is the best time to get rid of those ugly, empty containers and reuse them with plants that grow in the colder weather like pansies and viola, bulbs like grape hyacinths, and shrubs like euonymus, evergreen sedges, and evergreen ferns.
You can also start growing some winter vegetables. Good winter vegetables include cabbage, broccoli, cauliflower, and kale, all of which flourish in the cooler temperatures.
Onions, shallots, and leeks are also great choices, and these can be planted in the garden in autumn ready for an early spring harvest.
Apart from getting started with planting, The Telegraph also suggests you start moving tender plants like canna, citrus, and young olives indoors or to covered areas. Less hardy plants need winter protection, so make sure you have covering materials like fleece.
Feed your plants and improve your soil
Autumn days are your last chance to add fertiliser into potted plants before the cold months begin. iNews state that it's best to use low-nitrogen fertilisers, to avoid soft growth that will make your plants more vulnerable to disease and frost. These kinds of fertilisers promote robust frost-resistant growth, perfect for winter.
Autumn is also the most important season to improve your soil. Besides adding fertiliser, adding organic material like compost, shredded leaves, and organic nutrients help provide the soil microbes with food, and protect the soil from being too bare during winter.
Sort out your pond, fountain, and bird feeders
If you have water installations like ponds or fountains, now is the best time to scoop out leaves that may have blown into them. Remove any pond plants that have died, too, to prevent them from rotting and sinking to the bottom, which can upset the ecological balance of the pond. If your garden pond does not contain any fish, you can cover it with plywood or a tarp. Don't forget to turn off the pumps and filters for the winter, as they can freeze and damage the equipment. Take down bird boxes and empty them as old nesting materials, unfertilised eggs, and other debris that may carry diseases. Make sure you also clean out feeders and regularly refill them.
Clean your garden shed, sharpen your tools, and check your fences
Don't think maintaining a garden ends with the plants and soil. Your shed is still part of your garden. Keep it neat and tidy by sorting through your tools, cleaning them, and repairing or replacing any that have become damaged.
Don't forget your fences, too. Check for any shifting in the soil, cracks, or any insect infestation. If any of these are present, it is best to replace your fence with pressure-treated panels to prevent any damage in the future. The bulk of the garden fences showcased on Screwfix come with a manufacturer's guarantee, which shows how modern fences are much better equipped to last longer. Besides ensuring your fences are made of good-quality materials, make sure you pick a design that will complement your garden and potentially increase the value of your home.
Like the old adage says, first impressions last. And if the first thing a potential homebuyer sees is a poorly kept lawn, a rotten fence, and a patchy garden, the top quality designed interior of your home could be irrelevant.
AUTHOR BIO: Emerson Rosenzweig is a marketer by profession and is based in Bristol, UK. Having grown up with a passion for all things landscaping and gardening, Emerson appreciates the importance of maintaining a beautiful garden not just for boosting property value, but also for health and wellness. When he's not at work or tending to his garden, Emerson enjoys visiting the national arboretum and going for long runs.
If you'd like my help to sell your home more effectively, please answer a few short questions here and if I think I can help you, I'll be in touch.