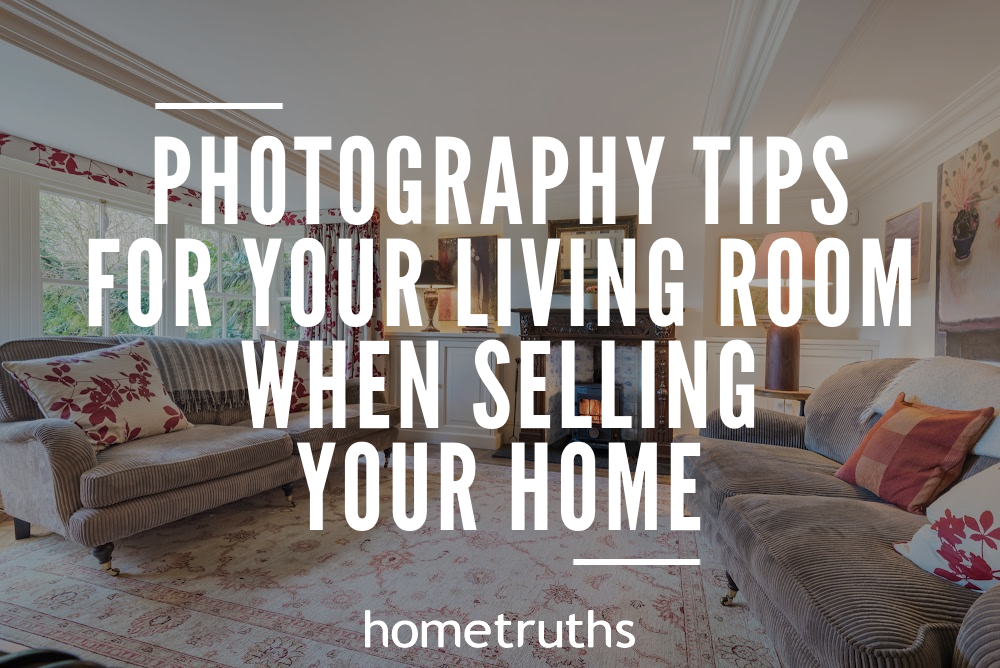 When you're ready to sell your home, you want your listing to be on Rightmove fast. But without great photography, you're unlikely to have many people take a closer look. So how do we make sure that the shots are tempting? Let's head to the lounge and check that it's ready for the photographer to arrive. Because the secret to great house photography isn't the photography itself. It's the home styling and preparations before the photographer arrives! Follow these simple home styling tips, and your lounge will be picture perfect from every angle.
Take a step back
Perhaps you've lived in your home for so long, you don't pause to appreciate the lovely oak fireplace anymore. Or maybe you're so ready to move, you overlook the chipped paintwork on the skirting boards. Either way, seeing the same room every day brings a sense of familiarity and comfort. And, sometimes, we can all become a little too comfy with our surroundings. That's when we start to overlook the details that may be the key to selling your home.
So how do we see the lounge through fresh eyes? We start with a little nostalgia. Let's go back to the first viewing of your home. What did you feel the first time you walked into your lounge? Perhaps the gently lit window seat, or rustic exposed beams, made you smile. Maybe it simply felt spacious, and you knew it would be the perfect space to entertain guests on a weekend afternoon. But, with time, our home adapts to our family. Maybe your brood is now a few children heavier, and the lounge that once felt spacious and adult, is now cramped with toys.
This is when rooms can start to lose their identity. And to make the room appealing to other families, it's important to remember the function, or purpose, of each room. So what is the lounge? It's the communal spot that brings everyone together, and to enjoy each others company. It should feel big enough to gather friends and family comfortably, yet cosy and inviting too. So how do we strike the balance?
We take a look at the 'things' inside the room. Because, as time passes, we find ourselves with more and more 'things.' Perhaps you brought a new three-piece suit last year, but you just couldn't bear to part with your favourite old armchair. So it sits in the lounge next to the new suite. Then there's the coffee table; it might be a little too big for your current place, but you know it'll fit just right in your next home.
Don't worry, you're not on your own. We all do this. But when someone is flicking through your homes pictures on Rightmove, you won't be on hand to explain why the bookcase is in the lounge. Potential families will simply assume that there isn't enough space in the office. And a home that looks small isn't appealing. Too much furniture is suffocating, so creating a spacious-looking lounge is key.
Shuffle some furniture
It's not quite moving day, but if you follow these steps, you'll be a little closer to scheduling the removal men.
So, has your furniture sat in the same position for the past few years? If the answer is yes, maybe it's time for a little shuffling. With time, we position our furniture so that it's convenient for our everyday living. And that makes sense. But in doing so, it's easy to cover up, hide and block the homes natural features too. Repositioning furniture can help you rediscover special qualities, and making sure that they're in frame when the photographer arrives is key.
Flick through a few Homeware magazines for room layout inspiration, because a little sofa shuffling can help breathe some life back into a space. On that note, if you are thinking of indulging in a new suite for your new home, consider replacing the old one now instead. A contemporary set can transform a tired room, and it'll instantly make the lounge look loved and inviting.
Consider putting big items of furniture, or anything that detracts from the room's natural features, in storage too. Moving furniture can create space, frame features, and create a more sociable environment.
If your family has grown by a baby or two since you bought your home, you might find that it's now not quite fit for purpose. That's why you're moving. But. And it's a big but. Potential buyers don't want to feel that the living space is cramped. They want it to feel spacious and roomy; it needs to look like a family hub, and a perfect space for entertaining too. So any toys, animal beds, or make-shift furniture should be hidden out of shot.
A final five-minute spruce
By following these home styling tips, you've done the hard work. But before the photographer arrives, spend a few minutes dressing the room. Neatly fold throws, and plump up the cushions. Open blinds, and turn on any low-level lamps too. Because the lighter the room, the better your photos will show off your home.
Happy selling!
If you'd like my help to sell your home more effectively, please answer a few short questions here and if I think I can help you, I'll be in touch.
Sam