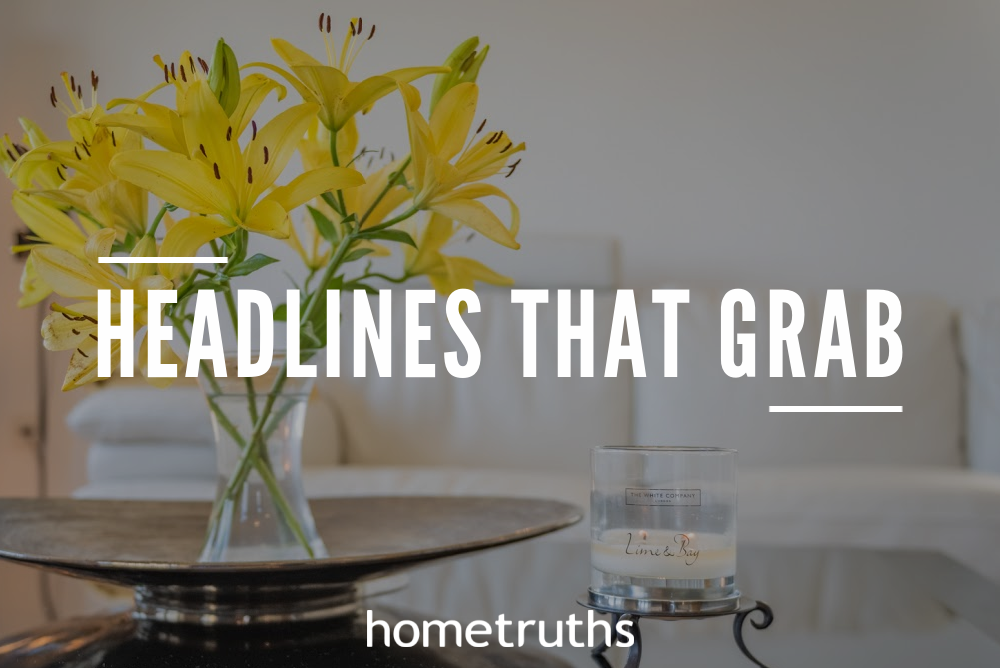 Headlines are meant to command your attention. Think of the front page of our daily newspapers, the News at Ten summary before the Big Ben bongs and the way our gaze is snagged by the headlines on the front cover of glossy magazines as they sit on the shelves, all fighting for our attention.
The same is true for property marketing. Too often are houses listed on Rightmove and the other property portals with the main description simply lifted and inserted on the summary page. So we get flat descriptions with ellipses, as they haven't been written to fit the summary, so overflow. Take a look at this prime example of a yawn-inducing 'summary':
A modern link detached 3 bedroom family home, situated in a corner position, located in this popular village. The property also offers a stylish kitchen, cloakroom, spacious living room and conservatory overlooking the rear garden. Further attributes include a garage,…
Much better to have a simple and punchy headline of no more than 15 – 20 words that tells the buyer straight away why they need to book a viewing.
Here's a list of some headlines – some better than others – but all better than a wordy description that nobody will read:
A good effort:
Luxury period living with 21st Century refinements
A superb architect designed house enjoying far-reaching panoramic views over Lake Windermere and the stunning backdrop of the Lakeland Fells
A cosy cottage nestled in a beautiful quiet backwater
A bit of punch:
Make as much noise as you want
Possibly Norfolk's finest coastal property
Some pointers to make sure your headline beats the competition:
Use individual and unusual words – forget 'spacious' and 'well-presented', and go for adjectives that will really grab our buyer.
Capture the essence – what is it that is unique and special about your home?
Keep it short – with the exception of the Tuscany headline above, all the others are less than around 20 words.
Struggling to create a catchy headline?  Email me with a link to your property advert, and I'll see if I can help.
If you'd like my help to sell your home more effectively, please answer a few short questions here and if I think I can help you, I'll be in touch.