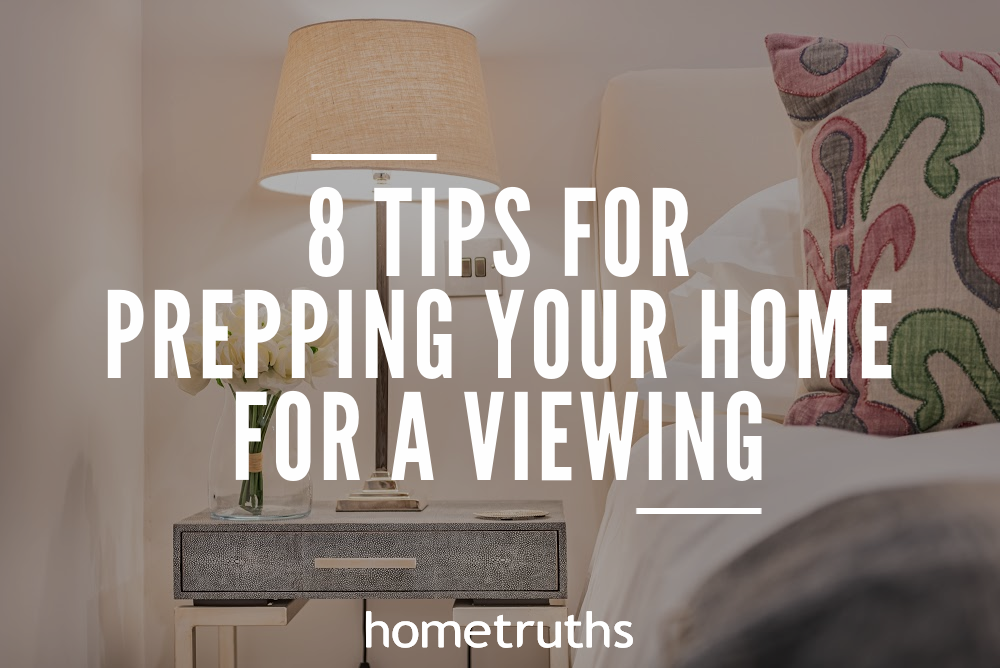 Your home probably feels comfortable to you on some level, no matter how tidy or well-presented it may be. But when you're showing it off to prospective buyers, it needs to reach a different level of clean, comfortable, and appealing.
Making this happen goes well beyond tidying up before the prospective buyer arrive. Here are eight specific tips to prep your home for a fantastic viewing:
1. Let The Light In
Light equals space. Houses that look gloomy tend to also look small, so by letting natural light flood in wherever possible, your home will look spacious to a buyer. Clean windows and mirrors so they sparkle, remove items from windowsills, and pull curtains back as far as you can. Net curtains also need to go, so the result is a light-filled home that your buyers will enjoy viewing.
2. Define "Clutter" Carefully
De-cluttering doesn't mean removing everything that's not absolutely essential from your home. Houses still need to look lived-in but moving extra items from floors and surfaces will allow your buyers to see your home at its best, and not get distracted by too many 'things' to look at. I have a 'rule of three', which is to not allow any more than three items to remain on each surface, so that ceramic cat collection probably needs boxing up, ready for your move.
3. Clear Out Closets
There's a temptation when cleaning for a viewing to shove everything into a closet to "clean up." But remember that most buyers – especially interested ones – will want to peer inside your cupboards and wardrobes!  Time for a clear-out, taking extra clothes, shoes and coats to charity, selling on eBay or giving away. If you really can't bear to part with something, box it up ready to take to your new home.
4. Remove Pet Paraphernalia
Not everyone is an animal lover, so best remove dog beds, cat litter trays and animal hutches before the viewing. If you can, take dogs out of the house before your viewers arrive, so they can focus on your home, not your cute dog.
5. Work on Temperature Control
Your viewers need to feel warm in your home, but not too warm. In the winter months, put the heating on, but leave some windows ajar, so the air flow keeps your home fresh. In the summer, check the temperature before your viewers arrive; around 20-22 degrees is about right for most homes.
6. Make the Outdoors Appealing
From the teeniest patio, to the rolling grounds, your outside space is an important part of your home. Treat it like an extra room, or rooms, and style each area for your viewing. Flowers on tables and cushions on chairs and benches will make your outside areas feel used, and will add to the appeal of your house. Also make sure parasols are up, and if you have a dog, your lawn is clean.
7. Showcase your Kitchen
The kitchen is often the deal-breaker on a viewing. Whilst I don't recommend changing your kitchen, or even investing in any significant improvements before you sell, it is worth tackling the cosmetic elements to make sure your buyer falls in love with it. So start with a deep clean until everything shines. Then clear all your surfaces of anything functional, including rarely-used appliances, like food mixers. Add in some decorative items, like flowers, plants and a vase of fruit, and your kitchen is ready to be shown.
8. Bathrooms Buyers will Love
Buyers don't like carpets in bathrooms, so if you have a carpet, or if your flooring in your bathroom is past its best, it's time to renew it. Bathroom floors are usually relatively small and therefore fairly inexpensive to replace, but worth the spend. Towels and bathmats are best shown brand-new and unused, so they haven't had time to trap odours. Remove your regular toiletries and cleaning products and add in some special toiletries instead, and ta-da – your bathroom will look like a brochure!
If you'd like my help to sell your home more effectively, please answer a few short questions here and if I think I can help you, I'll be in touch.