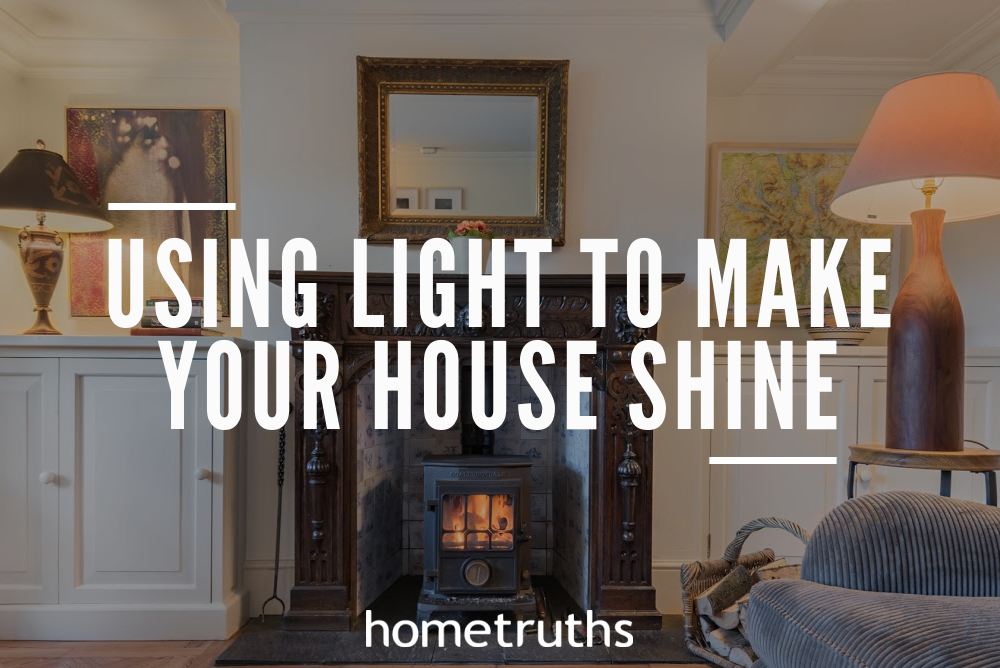 "It's all in the lighting", as house doctor Ann Maurice says. The lighting you choose can make or break a colour scheme or a design idea, and lift the ordinary into the extraordinary.
In a climate where natural light can be short-lived and weak, it's important to let as much as possible of this precious commodity into our homes. Pull back curtains and blinds, position mirrors adjacent to windows, and make sure they are spotlessly clean to really make the most of the light available. Any shiny surface, such as glass ornaments or chrome accessories will really shine near a window, and bounce light around the room.
Remember that the direction in which a window faces will alter the quality of the light; the light through north-facing windows, for example, will have a bluish tinge, and careful choice of décor will either enhance or combat this. So if you want a very cool-feeling room, painting walls bathed in this cold light in pale blues, or cool greens, will emphasise this fresh, calm atmosphere. A warm palette of terracottas, corals and caramels on the other hand, will combat this blue light, and give the room a warm, cosy feeling.
The right lighting for the right room.
The lighting you choose for each individual room needs to reflect not only the desired atmosphere, but also the practical use of the room. Here are some tips to help you make the right lighting choices:
Living room:
This is usually a well-used room, so make sure the general level of lighting is suitable for a variety of different tasks
Picking out a feature wall, or else an architectural feature such as cornicing, beams or stonework, with directional spotlight helps to create interest and drama
Any 'hidden' lighting, for example, under pelmets or behind cabinets, will diffuse the light and create soft uniform lighting
Use dimmers to change lighting moods
Highlight artwork and plants with individual lighting arrangements
Shades on floor, table and hanging fixtures will help soften the glare, and create pools of light
Display lighting can draw attention to collections or unusual objects
Dining room:
The lighting you choose for this area depends on your use of the room. An intimate space for entertaining small numbers of friends and family will have different needs to a more open-plan arrangement, perhaps off the kitchen:
The lighting in a family dining area should be kept relaxed and easy, with a good level of light, and many sources to create a consistent level.
To create a more intimate atmosphere, try hanging a large fitting, such as a chandelier, low over the table, so that a pool of light is created in the centre of the table, whilst the guests are in the dimmer light. This creates a very cosy atmosphere; just right for a small party of dinner guests.
Candles are another way of creating a special feel to the room; their light is very flattering to skin tones, so your female guests will thank you!
Candles placed near mirrors or by other reflective surfaces will make for really interesting light plays and shadows, and enhance the intimate mood.
Kitchens:
Kitchens need to be really well-lit, with both overhead and directional lighting, for maximum functionality.
Overhead lighting is best served by spotlights, either ceiling sunk, or else on a bracket. This way the lighting is well-distributed, uniform and as free from shadows as possible
Under-pelmet lighting will light the worksurfaces and sinks so that the chef doesn't cast a shadow over the food preparation
Special features, such as Agas or feature tiling, can be specially lit with directional lighting to enhance them and create interest
Shiny kitchen accessories, such as chrome kettle and toaster, will add to the lighting level by sparkling and maximising the existing light
Bedrooms:
Keep bedroom lighting low-level to preserve intimacy. Overhead lighting is best controlled by a dimmer switch, and lamps will make bedroom reading easy without raising the overall lighting level too much
Keep any wall lighting directed downwards to help create a calm, intimate atmosphere
Touch lamps are ideal for bedrooms, as they are so easy to turn on and off when you're half asleep.
Bolder Lighting Ideas:
Lighting isn't just for the interior – don't forget the garden! At night, lights can help your garden become a whole new world of shadows and interesting shapes.
Lights these days are often pieces of art in themselves: try over-sized stone lamps in your living room, or huge, ornate multi-stranded light fittings over your dining table. Steer away from the traditional shapes and use lamps and light fixtures to really make a design statement.
Try replacing floor tiles with underlit glass for real impact in your kitchen or bathroom
Creative and thoughtful lighting can really transform the dullest darkest house: just think carefully about the mood you're trying to create and the use for the room and plan accordingly.
If you'd like my help to sell your home more effectively, please answer a few short questions here and if I think I can help you, I'll be in touch.