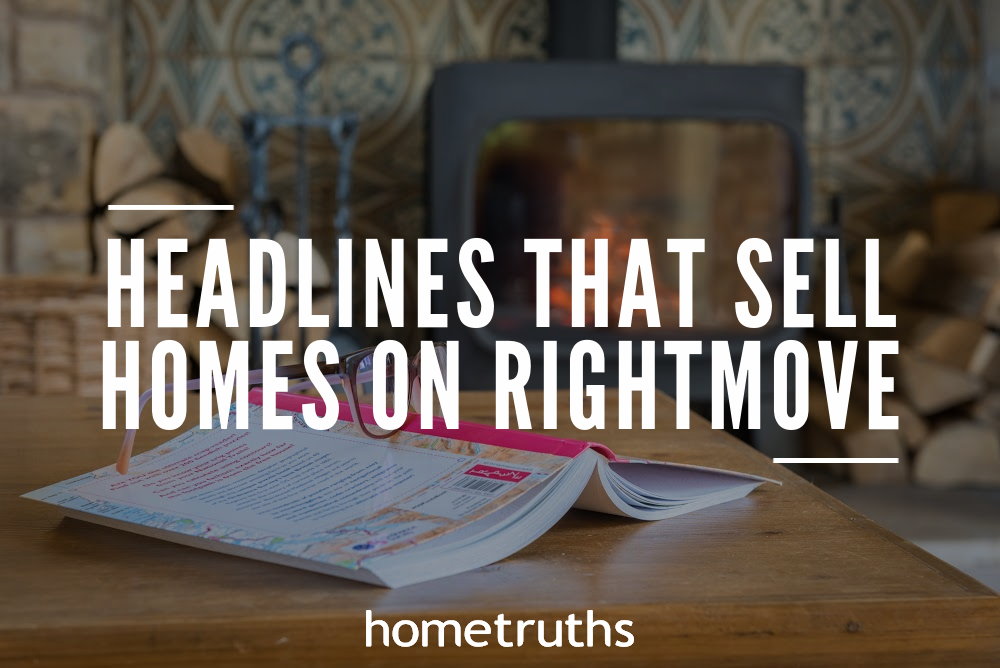 Crafting the right Rightmove headline is an art, and it might just be the key to selling your home too. As you scroll down a never-ending list of homes online, you'll find a sea of dull, generic descriptions. Nothing catches your eye, or tempts you to find out more. Then you see a thoughtfully drafted description. It's considered and personal, and invites you to click on the home to take a closer look. Let's take a look at why the words you choose are so important.
When you take a walk down the high-street you see a patchwork of shop fronts. The Little White Company catches your eye. Its clean frontage and thoughtful window display is inviting. Two carefully placed posters catch your eye; the first reads, 'Think timeless style, not fashion, quality, not quantity, and attention to detail in everything we do.' The other reads, 'Precious moments of uncomplicated happiness…We believe in making the most of life's simple pleasures- it's the little things that matter.'
Considered, delicate words, but there's no mention of what you can actually buy; instead, it simply it asks you to think about 'precious moments.' Picturing how the treasures inside can bring your family happiness is far more personal; it creates emotional ties that are difficult to ignore. These headlines don't sell the homeware and clothing products inside, they sell a lifestyle. Because everyone wants to make happy memories.
This little treasure sits alongside Matalan. The garish red sign sits above a cluttered display window; the clashing colours are off-putting, and the chaotic design is a harsh contrast to the elegant white and creams next door. There are lots of posters, but the biggest reads, 'New rug collection. Delivering quality and value always.' The words are concise and functional; they tell you exactly what is inside, but it's generic. This poster could exist in the majority of homeware shops, and it would suffice. The words are far from offensive, but they are forgettable.
The words on the posters speak of the shops inside. Both offer homeware and clothing, but only one creates an environment you really want to browse in. Getting lost in The Little White Company is an indulgence. And the treasures inside are more than just products. What lies within the clean, thoughtful space is a lifestyle, an ideal.
Matalan offers functionality. It's busy, cluttered aisles are well utilised and practical. But it's a place you go if you have to go. Not because you have the luxury of time and choice. The Little White Company schmooses. And it's thoughtfulness is memorable.
Shop headlines and home descriptions both fall into the same two categories: the functional, and the emotional. Most adopt the former. These are the generic, copy-and-paste jobs, littered with cliché phrases and adjectives. Yes, they are quick to write, and yes, they probably describe the home to some degree. But when you take a leaf out of The Little White Company, and craft a considered headline, it makes people pause and want to find out more.
Now let's compare two property headlines. The first reads, '*ESTATE AGENTS* are pleased to market this substantial property in a HIGHLY DESIRABLE location. The property is WELL PRESENTED and in brief comprises three reception rooms…' It goes on. And there is nothing wrong with the description. Just like the Matalan sign, it's practical, reusable and informative. But, except tweaking the number of bedrooms and reception rooms, it reads like every other headline. The generic capitalized adjectives could be used to describe most homes, and the overall tone is dull and forgettable. It doesn't tell the story of the home, and it doesn't help people to picture the lifestyle that can be enjoyed inside.
Alternatively, here's a schmoozy Rightmove headline, 'Is this the best view in the Lake District? Victorian splendour, views to make you swoon, and a wine cellar to boot. Welcome to the Old Vicarage.' The opening sentence talks to you. It invites conversation, and it's warm. There is just enough personality, and just enough detail, to make you want to find out more. The language and tone is elegant yet friendly, and the description is unique to the property.
Much like The Little White Company posters, this headline is less focused on functionality, and captures a lifestyle instead. Why? Because emotions sell homes. And everyone wants a home that is special.
So, to pinch a few words from our friends at The Little White Company, 'It's the little things that matter.' Let's take all the little things that make your home special, and invite families to see for themselves.
If you'd like my help to sell your home more effectively, please answer a few short questions here and if I think I can help you, I'll be in touch.