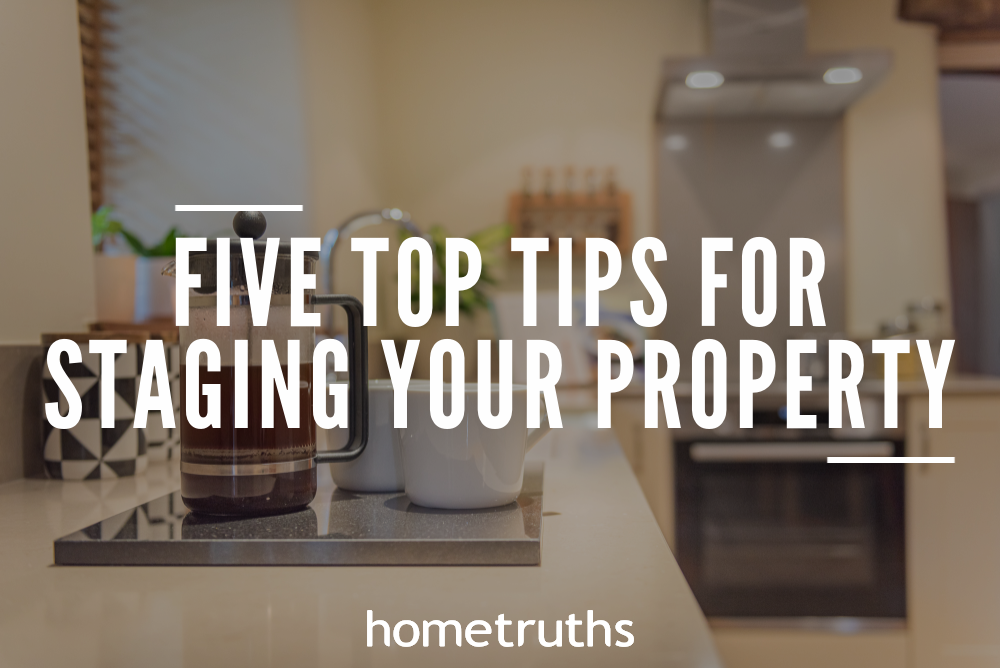 When it comes to selling your property, whether you live in it or it is an investment property, you need to ensure that it looks the part when potential buyers come to view it. This can call for a little bit of work but if it means that your property sells quickly then it is definitely worth the hassle. Look at it this way, if it is an investment property then the cost of sprucing it up may cost less than updating your landlord insurance policy to cover void periods. If it is the home you are living in, the quicker you sell it the quicker you can move on to your next property so either way, staging your property is essential for a quicker sale. We have prepared a checklist of some things you can do to help style your home to make sure it wows your buyers.
De-Clutter
First on the list is de-cluttering. You may be comfortable in the space you are living in and you might have boxes of children's toy's everywhere but the purpose of the viewing is to show the potential buyer that they too can live in the property comfortably. This means personal belongings and extra clutter should be cleared away as best as possible. In the bathroom try to hide your bottles of shampoo and shower gel, whilst these things give the property a lived in feel,  buyers want something appealing to them and lived in might not be what they are after. Also if there are things such as curtains you want to take with you, take them down. If the buyer sees them then they might ask for it to be included in the price of the house. If you have taken them down they will never know! One of the best ways to de-clutter is to look around your home and think about what really gets used or what doesn't. If you haven't used it in the last 6 – 12 months then it is unlikely that you are going to use it. Once you have decided on what you don't really need a car boot sale is a great way to make some extra cash and de-clutter your home.
Space
When a potential buyer comes to view your property they are trying to determine whether the space is right for them. You need to ensure that each room looks as big as it can and this can be achieved in a number of ways. Light colours, few patterns and clever lighting can really change the appearance of a room. If you are showing a buyer around your property, let them walk into the room first. A room crowded with people will make the room appear smaller. For bulkier furniture that isn't essential to a room, for example a book shelf, move this into storage so your rooms instantly feel bigger.
Storage
Storage, especially in smaller properties, is often an issue for potential buyers so you need to ensure that you have maximised the space that you do have. If you have extra storage cupboards the buyers need to be shown them so they can see that the property is practical. With the storage that you do have, ensure everything in the cupboards is neatly stacked and isn't over crowded. If someone opens a wardrobe door and a jacket pops out this implies that storage is tight. Also if everything is neatly packed away it shows that you are careful and that you have taken good care of the home that they may be about to buy. It is best if all cupboards are half full with the essentials only. Anything that isn't as important needs to be packed away and placed in storage. This will show buyers that there is enough room for what they need.
Colour
The colour of a wall can be easily changed but buyers are now put off by darker rooms or bold colours. If this is your taste then that is fine but you need to make the property appealing to others. Leaving it as a blank canvas for others to make their mark is important as again, they need to be able to envisage themselves living there. Neutral colours make your rooms look bigger but don't think of neutral as boring. It doesn't have to be Magnolia, sage greens and dusky pinks are great colours to use, as long as it isn't bold, it will work. Also consider repainting woodwork. It will give the edges of the room a crisper feel making it more appealing.
Overall, presenting the property in a way that enables the potential buyer to see themselves living there is the key to generating offers. Whilst some of these tips might seem like they are a lot of work, it will be worth it if you get two or three offers on your property then you are likely to get more than you asked for!
If you'd like my help to sell your home more effectively, please answer a few short questions here and if I think I can help you, I'll be in touch.