Before visiting a property, buyers like to envision themselves living in that particular space; propping their feet up on the sofa, looking out of the kitchen window at the garden, cooking bolognese over the stove. While excellent photography provides a sufficient spectacle in which to do this from, virtual tours offer a little bit more. A physical tour provides a genuine insight into a home, but a virtual tour can do the pre-viewing, offering a simulated view of a home from the comfort of your current one.
With the current market offering a mass of competition, 360° virtual tours offer that little something different for home marketing. The interactivity and feeling of being within a property, can leave buyers excited and thirsty for the real thing.
If you're considering adding a virtual tour to your online property brochure, consider the real advantages that it adds to your property portfolio:
Buyer confidence – Before contacting an agent, a potential buyer can view every angle and aspect of the property. The tour gives them the ins and outs of the property without even stepping in the door, and consequently they know what they're getting themselves in for. It gives them confidence in not only the property for sale, but the agents too; it provides assurance that the agents have put together a well-constructed portfolio, and are keen to market the property in the best light. It also gives the buyer the opportunity to come up with any questions about the property before a viewing.
Time savers – It goes without saying, that virtual tours save time. For physical house viewings, individuals have to schedule appointments around work agendas and other commitments, as well as when the other party is available. A virtual tour can be done from a desk at work or a home sofa, and be completed within ten minutes. It also means genuine interested parties are separated from those who aren't; if you've viewed a virtual tour and want a physical tour, you're definitely interested.
Virtual tours are mostly interactive, meaning you can click the mouse and every inch of the room from the floor to the walls can be seen. Others are views that you can watch but cannot control, however both offer a fantastic vision of a prospective future home.
To view a fantastic example of a virtual tour, click here.
With so many advantages for your home marketing, virtual tours are definitely worth considering to open your home up to more potential buyers. Ask your agency about what options they offer within their packages.
If you'd like my help to sell your home more effectively, please answer a few short questions here and if I think I can help you, I'll be in touch.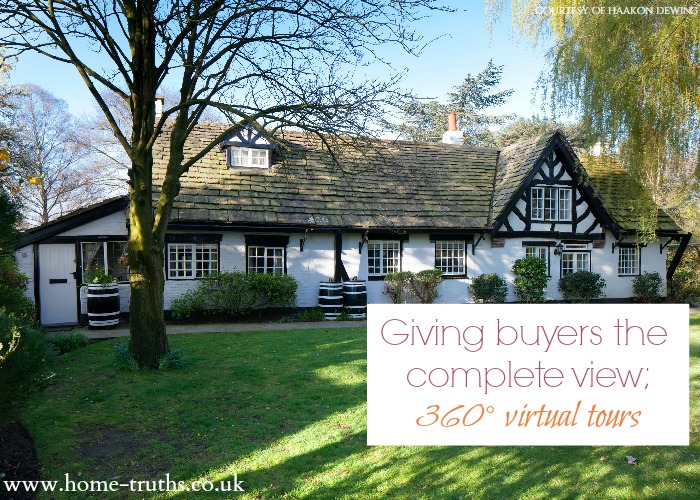 What to read next: Let Buyers See Your Front Door
What to do next: Sign up to my Selling Secrets http://www.home-truths.co.uk/selling-secrets